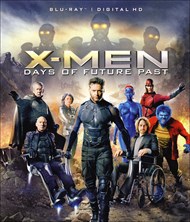 Movie Description
The seventh film in the X-Men franchise features Marvel's famous mutants-with-superpowers, huge action sequences, and Wolverine traveling back in time to save the world! The film was inspired by the 1981 Uncanny X-Men storyline of the same name. X-Men: Days of Future Past sees Xavier's "Gifted Youngsters" battling Sentinels: shape-shifting killer robots bent on exterminating all mutants and mutant-friendly humans. The Sentinels are deadly - the X-Men's only hope is to travel back in time to the 1970s to stop them from being created in the first place. The all-star cast includes Hugh Jackman, James McAvoy, Michael Fassbender, Jennifer Lawrence, Halle Berry, Anna Paquin, Ellen Page, Nicholas Hoult, Shawn Ashmore, Peter Dinklage, Ian McKellen, and Patrick Stewart.
User Reviews
Average Member Rating: 9.3 out of 10
Best Producers. (10 out of 10)
posted by shawnraycarico (JOHNSON CITY, TN) on Oct 18, 2014
Member since May 2012
IT'S MUST TO WATCH MOVIE!
more