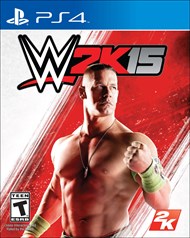 News
Codes
& FAQs
Gameplay
Controls
Similar
Games

Bundles
Game Details
Game Description
Wrestling fans - get ready to step into the ring and face off against some of the biggest names in sports entertainment. WWE 2K15 features improved controls and five times as many new animations as any previous WWE game. Featuring over 60 face- and body-scanned WWE all-stars - including Goldust, Triple H, Hulk Hogan, and CM Punk - WWE 2K15 is as real as game-wrestling gets. Relive classic rivalries with 2K Showcase Mode or try out the all-new MyCAREER Mode. Take a custom-made Superstar through an authentic WWE career from NXT to RAW, all the way to the WWE Championship. Your actions shape the WWE Universe, so you'll help determine the storylines, schedules, rivalries, alliances, and more. WWE 2K15 features a custom soundtrack of adrenalin-drenched hits from today's hottest artists, curated by John Cena.
Critic Reviews
GamesRadar Review (4.0 out of 10)
WWE: 2K15 review The key to a long career in professional wrestling is to make less go further. 'Stone Cold' Steve Austin, as an example, counteracted career-threatening knee and neck injuries by transitioning from a technician to a wild brawler, while 'Nature Boy' Ric ...
more
User Reviews
Average Member Rating: 6.2 out of 10
NEXT GEN NEXT GEN!. (10 out of 10)
posted by x3sharky on Nov 18, 2014
Member since Jan 2014
4 out of 4 gamers (100%) found this review helpful
I honestly said during the entrances to my brothers chill this is video. But then it went to the fight and it really did look that way shocked! Extremely nice graphics my 10 is solely on that well done 2k . I also picked up GTA 5 and it was only a small step up from last gen (with that being said s...
more