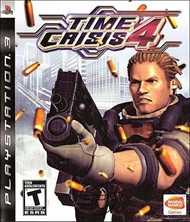 News
Codes
& FAQs
Gameplay
Controls
Similar
Games

Bundles
Videos & Screenshots
Game Description
Note: This title is not rentable because it is only sold packaged together with the GunCon 3. If this title becomes available for purchase without the GunCon 3 in the future, we will make it rentable.
Critic Reviews
GamesRadar Review (5.0 out of 10)
Time Crisis 4 An average port featuring a gloriously botched attempt at complete control Gun nuts. Even gamings got 'em. It's these peripheral-happy, armchair assassins that make moderate successes out of light-gun games like Time Crisis in spite of high costs and...
more
User Reviews
Average Member Rating: 7.1 out of 10
Fun, but does not feel as good as arcade version.. (7 out of 10)
posted by EvanCD (BERTHOUD, CO) on Jul 20, 2010
Member since Dec 2008
6 out of 6 gamers (100%) found this review helpful
This game is good, has nice controls and challenges, single player is nice, arcade is nice, but the only thing wrong with the game is the inabilaty to feel like the arcade version. Which for me, is the best thing about arcade FPS's. The ability to feel awesome everytime you play it. That's my point ...
more