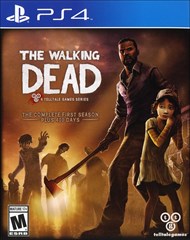 Videos &
Screenshots

News
Codes
& FAQs
Gameplay
Controls

Bundles
Game Description
This must-play collection gives you the entire first season of The Walking Dead, Telltale Games' massively popular, critically acclaimed episodic zombie game. All of the original five episodes of the adventure-horror title are here, as well as "400 Days," a special episode that was previously available only as downloadable content. Based on The Walking Dead comic, but containing mostly original characters, the first season of The Walking Dead tells the tale of Lee Everett. He's a university professor and convicted murderer who helps care for a young girl named Clementine. Instead of an exercise in shooting monsters in the face, The Walking Dead goes for a deeper story that focuses on the emotions of the characters, as much as the action or puzzle solving.
User Reviews
Average Member Rating: 8.8 out of 10
Best story game ever made!. (10 out of 10)
posted by BIGREDTHENDEAD (LIBERTY, MO) on Oct 16, 2014
Member since Jan 2012
0 out of 1 gamers (0%) found this review helpful
I've played this probably more then any game I've ever had and the best part about this game is you choose everything that happens so it becomes more personal and if you like the walking dead tv show and comic books then you will love this game deserves a 10 out of a 10 on my review there's nothing ...
more