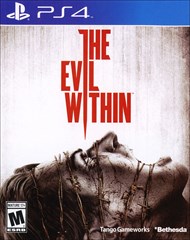 Videos & Screenshots
Game Description
Fans of survival-horror games are in for a terror-filled treat with The Evil Within. This grueling game was directed by Shinji Mikami - the father of survival horror - and features an immersive, highly crafted world full of brutal creatures and fiendish traps. Its intricate story is designed to take you beyond the edges of tension and dread. You play as Sebastian Castellanos, a detective investigating the scene of a gruesome mass murder. After witnessing a mysterious force slaughtering his fellow officers, Sebastian is attacked, knocked unconscious, and awakes in a deranged world where hideous creatures wander among the dead. Facing unimaginable terror and fighting for survival, Sebastian embarks on a frightening journey to learn the secrets behind this evil force.
Critic Reviews
GamesRadar Review (7.0 out of 10)
The Evil Within review Climbing into a metal storage room lined with moist, gleaming viscera, I spot one of the undead Haunted horde, chowing down on some unlucky sucker. I quietly sneak up behind it, but it hears me somehow and turns around to attack… just in time fo...
more
User Reviews
Average Member Rating: 7.2 out of 10
Amazing. (9 out of 10)
posted by pwnallofu (SAVAGE, MN) on Oct 18, 2014
Member since Mar 2012
2 out of 2 gamers (100%) found this review helpful
This game is great for people who ah bar played resident evil 4
more