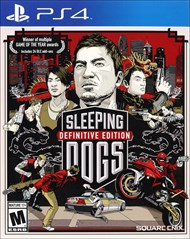 Videos &
Screenshots

News
Codes
& FAQs
Gameplay
Controls

Bundles
Game Description
If Hong Kong-style action cinema gets your blood pumping, then Sleeping Dogs: Definitive Edition just might be the perfect shot of adrenaline for your gaming needs. The open-world action game has been remastered and updated for the PS4 in 1080p. Hong Kong Triads rule the city with an iron fist and it's up to you, an undercover cop named Wei Shen, to take down the criminal beast from within. Speed through the streets of Hong Kong in illegal street races, or show off your martial arts skills in hand-to-hand combat with villainous gang members. Just be careful not to blow your cover as you plot to take on the underbelly of the city's criminals one by one.
User Reviews
Average Member Rating: 8.1 out of 10
Ehh another remake. (6 out of 10)
posted by Malikite (ROCKVILLE, MD) on Oct 11, 2014
Member since Jan 2012
1 out of 2 gamers (50%) found this review helpful
I agree with the previous review. Bringing back old games is 1 thing, but in moderation. The last of us was great. I missed out on the ps3 so that 1 was a definite buy for me. If you've never played a previous version of a remake definitely rent/buy. If not then it's just waste of time and money. O...
more