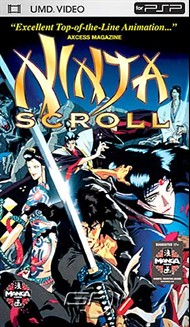 Movie Description
Critically-acclaimed director Yoshiaki Kawajiri brings us this epic Samurai action thriller, which is considered to be a Japanese anime masterpiece. The Koga Ninja Team must investigate a mysterious epidemic that has wiped out the entire village of Shimoda. As it turns out, the Devils of Kimon have poisoned the village's water supply so that they could search for the gold hidden there. While on their way to Shimoda, the Koga Ninjas are ambushed by a giant who kills them all except for Kagero, a powerful female ninja who is taken captive by the giant. Kagero is saved by Jubei Kibagami, a wandering ninja who has stopped by to ask for directions. Kagero and Jubei then team up to defeat the evil Gemma.
User Reviews
Average Member Rating: 9.0 out of 10
LOVE IT. (9 out of 10)
posted by ctfan31 (GREENWOOD, IN) on Jul 4, 2007
Member since Jul 2007
6 out of 6 gamers (100%) found this review helpful
I remember watching this anime on vhs when i was 12 and i remember i loved it. This movie is VERY high in action something between fist of the north star and (what most would know of today) naruto. The one thing i didn't like about this movie was it wasn't long enough, but it is definantly worth a r...
more
Specs & Requirements
Length 90
Theatrical Release Date 1996