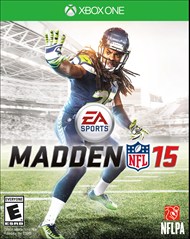 Videos &
Screenshots

News
Codes
& FAQs
Gameplay
Controls

Bundles
Game Description
Strap on your helmet and gear up as you rush your way onto the field with Madden NFL 15. Defense takes on a whole new meaning, now that you have a brand-new arsenal of tricks to choose from. Whether it's power pass rush, finesse pass rush, or playing off the line, these additional options will allow you to build the dominant defense you've always wanted. Features like the all-new Tackle Cone let user-controlled defenders decide between conservative or aggressive tackles. Player Sense 2.0 improves upon player emotion and awareness, taking you into the trenches with heightened realism. So grab that pigskin and lace it up because football season is here!
Critic Reviews
GamesRadar Review (8.0 out of 10)
Madden NFL 15 review The new generation of consoles has been kind to Madden. While the PS4 and Xbox One version of last fall's Madden NFL 25 only features slightly upgraded visuals from its last-gen counterparts, its significant gameplay improvements won over hardened f...
more
User Reviews
Average Member Rating: 8.0 out of 10
Much better than last madden. (8 out of 10)
posted by Jared1333 (LA VISTA, NE) on Aug 30, 2014
Member since Jan 2014
It is still the same basic engine and controls, the graphics have been upgraded quite a bit and defense has been given an overhaul. Music is finally changed and they got rid of the terrible practice from the last Madden.
more