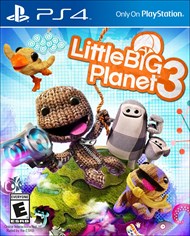 News
Codes
& FAQs
Gameplay
Controls
Similar
Games

Bundles
Game Description
Sony's blockbuster "infinite platformer" is back, and this time Sackboy has some new friends and innovations to keep the series up with the times. Three new handcrafted heroes jump and climb through the Imagisphere - agile OddSock, majestic Swoop, and Toggle, who instantly switches from powerful Big Toggle to fast-moving Little Toggle. Like Sackboy and Sackgirl, all the new characters are fully customizable with plenty of costumes to collect to get your look just right. As in previous Little Big Planet games, you'll be able to check out the creative levels designed by the community and build your own. Little Big Planet 3 features innovative support for the PS4's DualShock 4 controller, 1080p graphics, and the ability to instantly send out creations and gameplay clips with the Share button.
User Reviews
Average Member Rating: 8.1 out of 10
Fun but lacking in online play. (7 out of 10)
posted by BroncoNate (REDFORD, MI) on Nov 23, 2014
Member since Jun 2013
1 out of 3 gamers (33%) found this review helpful
this game is great but to do much of anything you have to have at lest 2 friends that have the game still a game to buy and hold on to LBP is a great game if you can thing of stuff to make and do kinda like minecraft but still fun game to buy. i could see any one playing this game and finding enjoym...
more