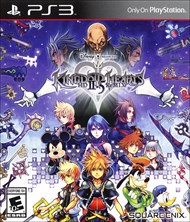 Kingdom Hearts HD 2.5 ReMIX
Start your 1-month FREE Trial!
Critic & User
Reviews
Codes
& FAQs
Gameplay
Controls

Bundles
Game Details
Game Description
Fans of the fanciful action-RPG series Kingdom Hearts are in luck with this collection of three amazing KH titles. The oddly effective pairing of Japanese gaming with classic Disney characters, like Mickey Mouse and Peter Pan, is a perfect fit for the PlayStation 3. This limited-edition release includes Kingdom Hearts II Final Mix and Kingdom Hearts Birth by Sleep Final Mix, both with content never before seen in North America. Kingdom Hearts HD 2.5 ReMIX also features remastered HD cut-scenes from Kingdom Hearts Re:coded and all-new cut-scenes starring much-loved KH characters. The graphics have been pumped up to PS3 standards, trophy support has been added, and the audio has been remastered and improved, all to bring the ultimate Kingdom Hearts experience to the PS3.