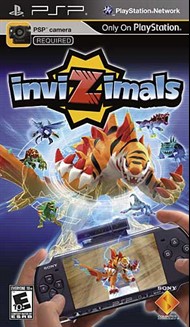 Videos &
Screenshots

News
Codes
& FAQs
Gameplay
Controls
Similar
Games

Bundles
Game Description
There are creatures lurking nearby - and Invisimals lets you see what you've been missing! Use your PSP camera to search for invisible creatures that live where you live, eat where you eat, and play where you play. Once you've spotted an Invizimal with the on-screen sensor, lay traps to capture it so you can use it in battle. Mold your Invizimals into better fighters by teaching them new attacks. Pit your Invizimals against each other or send them into battle against the Invizimals found by your friends. Keep all the creatures you can find or expand your collection by trading with friends.
Critic Reviews
GamesRadar Review (7.0 out of 10)
Invizimals review Slightly more than just a tech demo Invizimals comes to our PSPs before we have been able to use up the first full charge on our PlayStation Move controllers. The game includes a camera, and is the first handheld offering of the superimposed virtual re...
more
User Reviews
Average Member Rating: 8.4 out of 10
A LOT better than I was expecting!. (8 out of 10)
posted by Tahahiro (LEWISBURG, WV) on Nov 14, 2010
Member since Nov 2010
8 out of 8 gamers (100%) found this review helpful
All right, so the game itself reminds me of the old handheld game, Scannerz. Something like that. It seems since I got it I am un able to put it down. I would recommend giving it a try. Especially if you liked that old game, and the pokemon games. It gives me something to do and I like the wa...
more