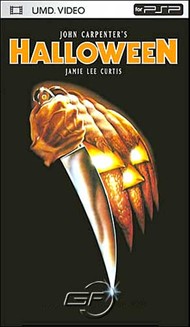 Movie Details
Release Date 8/23/2005
Studio Anchor Bay Entertainment
Platform PSP Movies
Genre Horror
Movie Description
Directed and co-written and by John Carpenter, Halloween is one of the most important and influential horror films ever made, and is recognized as the first of the modern Slasher genre. On a cold Halloween night in 1963, six-year-old Michael Myers brutally murders his sister, and is locked away in a sanitarium under the care of Dr. Loomis (Donald Pleasance). Fifteen years later, Michael Myers is on his way to court, but he steals a car and escapes. He returns home to Haddonfield with murder on his mind. After killing a few teenagers, Michael sets his sights on babysitter Laurie Strode (Jamie Lee Curtis). Dr. Loomis, the only one who knows Michael's true evil nature, has tracked Michael back to Haddonfield, and rescues Laurie in the exciting finale.
User Reviews
Average Member Rating: 8.4 out of 10
Best horror movie ever!. (10 out of 10)
posted by zex132 (KINGSTON SPRINGS, TN) on Jan 13, 2007
Member since Nov 2005
1 out of 1 gamers (100%) found this review helpful
This movie rocks.Its scary,suspenseful,and grueome. This movie is not for little kids so parents dont let little kids watch it.This gave me cool dreams and maybe itll give you ones too.
more
Specs & Requirements
Length 92