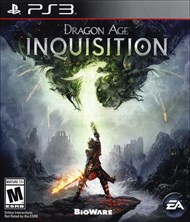 Codes
& FAQs
Gameplay
Controls

Bundles
Videos & Screenshots
Game Details
Game Description
Dragon Age: Inquisition offers tons of the deep, ambitious RPG action that fans of the Dragon Age series crave. A continuation of the plot from Dragon Age II, Inquisition puts the player in the middle of an all-out war between mages and Templars. As the Inquisitor, the player's decisions shape the complex plot, relationships with NPCs and party members, and the entire game world itself. You can choose to open up new parts of the map to explore, or destroy villages and all the story points and characters within them. The world is bigger than in previous games and there is an extra race to choose (the Qunari join Humans, Dwarves, and Elves as a playable race). The party-based combat system has been made more tactical and complex. Overall, Inquisition aims to be the best Dragon Age yet.
User Reviews
Average Member Rating: 7.5 out of 10
Excellent game! Best in series.. (10 out of 10)
posted by raylan322 (FORT SMITH, AR) on Nov 17, 2014
Member since Nov 2014
1 out of 1 gamers (100%) found this review helpful
I've loved almost every minute of Dragon Age: Inquisition so far. The world is huge and fun to explore. They changed it in a way that reminds me of Skyrim(Not a bad thing). The combat is fluid, fast-paced, and you will always find awesome ways to kill things. RPG elements are top-notch. Leveling up ...
more