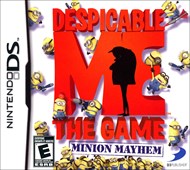 Videos &
Screenshots

News

Bundles
Game Description
Like any supervillain, Gru has a variety of evil gadgets, an archenemy, and a diabolical master plan. In Despicable Me, the movie, he also has three orphan girls that keep getting in the way. In Despicable Me: The Game, Gru gets to focus on doing what he does best: being evil. Lucky you! Play as the evil genius planning to steal the moon in this game inspired by the Despicable Me movie. Use freeze guns, magnet rays, and other evil gadgets as you work on your evil schemes. This DS version of the game emphasizes minion missions with 40 evil tasks waiting for you and your little yellow army to complete.
User Reviews
Average Member Rating: 4.6 out of 10
BOOOOOOOOOOOOOOOOOOOOOOOOOOOOOOOOOOOOOO!!!!!!!!!!!. (2 out of 10)
posted by awesomness (BLUE JAY, CA) on Jul 28, 2010
Member since Jun 2009
3 out of 6 gamers (50%) found this review helpful
well to tell you the truth this game was not at all what i expected i was expecting a great game full of entertainment and what not but this game was just flat out boring. If you think that the minion mayhem was just an add-on you are incredibly wrong in this game all you do is let some stupid minio...
more