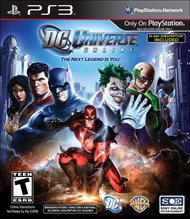 Gameplay
Controls
Similar
Games

Bundles
Game Details
Game Description
NOTE: This title is not rentable because it is only playable online with a subscription fee required for gameplay.
User Reviews
Average Member Rating: 7.5 out of 10
Good game, gets repetitive. (8 out of 10)
posted by halfastronaut1 (GREENSBORO, NC) on Apr 13, 2011
Member since Apr 2011
2 out of 2 gamers (100%) found this review helpful
This was my first MMO, got very excited to hear one was coming out for PS3. I enjoy superhero comics but am not a fanatic. LOTS of fun creating characters: choosing power combos and customizing your look are great. The "mentor" system is cool too, you'll be fighting alongside legendary hero...
more