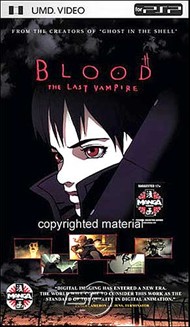 Movie Description
Saya (Youki Kodoh) sits quietly in a dreary subway car. While she may seem like an ordinary student, she's actually an undercover vampire hunter. It's the fall of 1966 in Japan, and the U.S. military is using the Yokota Air Force Base near Tokyo to supply its forces in Vietnam. Meanwhile, a series of suspicious suicides are reported in a nearby village. Wearing her Japanese school uniform and wielding an ancient Samurai sword, Saya must infiltrate the American school within the military compound, uncover the source of the problem, and eliminate it. Youki Kodoh, who plays Saya, recently made her Hollywood debut in the feature film Snow Falling on Cedars.
User Reviews
Average Member Rating: 7.4 out of 10
My standards are very, very high.. (10 out of 10)
posted by North0 (PASADENA, CA) on Jun 1, 2007
Member since Jun 2005
3 out of 3 gamers (100%) found this review helpful
This movie is short. Very short. Perhaps 50 minutes. There ends the only drawback you should be aware of. Those 50 minutes stand among the greatest works of this genre, developing a depth of character in so few words and images as to make it totally remarkable, and more than able to stand alone ...
more
Specs & Requirements
Length 50
Special Features Bonus Documentar on The Making of