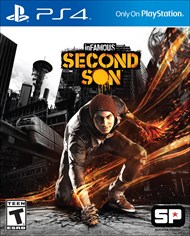 inFamous: Second Son
Start your 1-month FREE Trial!
Critic & User
Reviews
Codes
& FAQs
Gameplay
Controls

Bundles
Game Description
A new hero emerges on the rainy streets of Seattle. The inFamous franchise returns seven years after Cole McGrath had to choose between saving humanity and working with the Beast. This time, the game has you controlling Delsin Rowe - a skateboarding graffiti artist who's just discovered his superhuman abilities, which allow him to control smoke and draw in neon. With superhumans now hunted down as terrorists by the Department of Unified Protection (DUP), Delsin decides to take matters into his own hands and fight back. As an open-world action-adventure game, all the decisions you make will affect the story around you, so choose wisely!