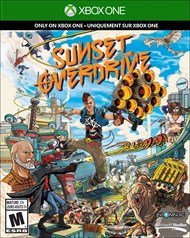 Sunset Overdrive
Start your 1-month FREE Trial!
Critic & User
Reviews
Codes
& FAQs
Gameplay
Controls
Similar
Games

Bundles
Videos & Screenshots
Game Description
This over-the-top, open-world, third-person shooter takes you deep into Sunset City, a colorful town in which people have been transformed into monsters after drinking an energy drink from FizzCo. You'll wall-run, use zip lines, and grind rails to travel, while employing an oversized arsenal to mow down many, many people who have OD'd on FizzCo's deadly drink. Weapons range from standard assault rifles to outlandish arms like the TNTeddy grenade launcher that fires teddy bears strapped to sticks of dynamite. The combat focuses on agility and speed instead of cover. You can even join your friends for co-op in Chaos Squad, where you'll work together to kill enemies and earn style points for innovative and creative kills.