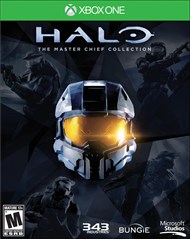 Halo: The Master Chief Collection
Start your 1-month FREE Trial!
Critic & User
Reviews

News
Codes
& FAQs
Gameplay
Controls

Bundles
Videos & Screenshots
Game Details
Game Description
If you want Master Chief's entire, epic story on one console, The Master Chief Collection is a necessity. Collected here are the Xbox One versions of Halo: Combat Evolved, Halo 2: Anniversary, Halo 3, Halo 4, as well as a new digital series, Halo: Nightfall. All the classic Halo titles are presented with Xbox One fidelity. That means stunning HD graphics running at 60fps. There are a total of 45 campaign missions, plus more than 100 multiplayer and Spartan Ops maps to enjoy. If you like it old-school, you can switch between the original version of Halo 2 and the remastered version at will. There are new Skulls, improved navigation between missions, new cut scenes, and interesting new connections to the upcoming, sure-to-be-a-blockbuster Halo 5: Guardians.